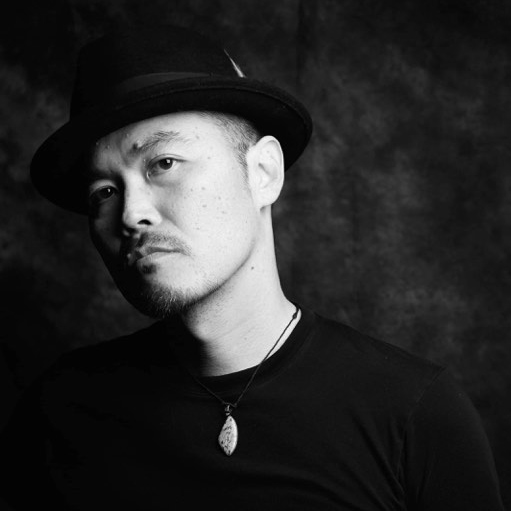 【Hideyoshi】
東京生まれ東京育ち。
幼少の頃より夜の東京ストリートで遊び始め、CLUBやDISCOに毎日のように足を踏み入れ音楽や映像、そこで出逢った刺激的な人間達と交流を持ち、感性を磨いた。ある日、映像で表現することに覚醒、独学で映像を始め、殆ど眠らず食事も摂らず映像制作に没頭していくことになる。
当時の北野武(Takeshi Kitano)監督からも尖ったクリエイティブのセンスを認められるとともに最高の評価を受け、映画『座頭市』のREMIX作品を手がける。「ヴェネチア国際映画祭」のコンベンション会場にてその作品が放映され、最高の栄誉である"金獅子賞受賞"に華を添える事となる。
その他、国内外の有名アーティスト、ファッションブランドなどの映像を数多く制作しながら、2012年1月に音楽活動を開始。映像作家として鍛えられ、クリエイティブィティ、ストリートやCLUBで培ってきセンシティブィティをバックボーンに、プロデューサーとしての能力も発揮し、2012年4月に1st EPをリリースするやいなや、わずか半年間で世界30レーベルから100トラック以上をリリース。ワールドツアーのオファーを受けるまでに急成長を遂げた。
2012年8月のBEATPORT" Top Selling Tracks in Japan"のチャートでは、堂々の1位にランクイン、9月にはフランス・パリの".Entropy Records"からアルバムが世界流通、2014年にはBEATPORTのMinimal Chartで並み居るビッグアーティストを押しのけ1位を獲得。2015年には、デトロイトの有名レーベル "Soiree Records"からvinylをリリース、わずか3年弱の間に300トラックをリリースした。
更に自身のレーベル「Killer Crossover」を立ち上げ実験的なトラックを次々とリリースするなど快進撃を続ける。
その後、4年間の療養を余儀なくされるも、2019年に彼は活動を再開。Fatima Hajjiのレーベル "Silve M" 、AnGy KoReのレーベル "Luft"、Carl Cox、Dubfire、Monika Kruseがリリースをしている"Natura Viva"、Marco Baileyがリリースしているレーベル "Advanced"、Yan Cook、Drumcomplex、Tom Hades、drumcell、A.Paul、Alex Bauがリリースしている"Blind Spot"、DJ Rush、Ken Ishii、Tom Hadesがリリースしているレーベル "Dirty Minds"、Industrialyzer、ANGY KORE、Tom Hades、A.Paulがリリースしているレーベル"Focus Records"、ANGY KORE、FRANKYEFFE、 Dani Sbertがリリースしている " Audio Elite"などから多くのトラックをデジタルリリースをする。また、Oscar Mulero、Lewis Fautzi、Mike Parkerなど、偉大なアーティストがリリースしている有名アンダーグラウンド・レーベル"Labrynth"からvinylをリリース。
東京のストリートで鍛え上げられたカッティングエッジな感性と、深い精神性から生み出される唯一無二のサウンドは、国内だけでなく世界中のビッグアーティストたちからサポートを受け、世界中のオーディエンスからも狂信的な支持を集めている。また、理に頼らぬ独特の尖った感性と己の精神と肉体を削ったLiveパフォーマンスは、オーディエンスを魅了する。
夜の闇に浮かび上がるHideyoshiの漆黒のグルーヴは、東京だけではなく世界のクラブシーンにおいて、新たな伝説を築くだろう。
Hideyoshi was born in Tokyo. From young age, he went to some nightclubs every day,where he influenced by music and images, and where his sensitivity was polished.
–
It was an occurrence in Shibuya. Light poured into Hideyoshi's body that woken up to express with an image, and it begun by self-education to study an image. Neither sleep nor a meal was unenthusiastic ally taken just because it was devoted to image work.
–
Such a sense and some gain in popularity got greatest support from Director TAKESHI KITANO. He gotta some remix work for movie "Zatoichi" and at Venice International Film Festival. his work shown at the convention hall and it played a role in the Golden Lion award, which is the highest honour. In addition, he produced a lot of movie such as a famous artist of home country and abroad.
–
He started his "music activity" in January 2012. He shown great ability as a producer, thanks to his creativity, which was developed as a movie director, and affected in the streets and club, where he was born. He released more than 100 tracks from 30 labels worldwide in only a half year, as soon as he released first the first EP in April 2012, and accomplished rapid fame, receiving offers to tour the World.
–
He won big in the ranks of the Beatport Top Selling Tracks in Japan in August 2012, and the Album from the Entropy Records in Paris, France and the global distribution in 2014. He also won Beatport's Minimal Chart Get 1st place. His works has released from Detroit's famous label "Soiree Records" In 2015 as a of vinyl.
In just under three years 300tracks has released.
He created the label "Killer Crossover" which he released his own experimental tracks in September.
But he takes care of his illness for four years.
he started his music activities again and also Fatima Hajji label "Silve M" and Marika Rossa's label "Fresh Cut" and AnGy KoRe label "Luft" and Carl Cox, Dubfire, Monika Kruse, released "Natura Viva" and Marco Bailey released label "Advanced" "And Yan Cook, Drumcomplex, Tom Hades, drumcell, A.Paul, Alex Bau has released" Blind Spot "and DJ Rush, Ken Ishii, Tom Hades has released labels" Dirty Minds "and Industriallyzer, ANGY KORE, Tom Hades, A.Paul have released the label "Focus Records" and ANGY KORE, FRANKYEFFE, Dani Sbert released the label "Audio Elite" have released his many tracks digitally from the many label in 2019.
Oscar Mulero, Lewis Fautzi, Mike Parker and other great artists has released some vinyls from "Labrynth" which is the famous underground label in the United States,and so did he.
The sound is the one and only brought about by the sensitivity that is cutting edge forged in a street of Tokyo and a deep spirituality, he received big support from many big artists around the World as well as Japan, and gained the support of many fans around the World.
–
The jet-black and mysterious grooves of Hideyoshi, which rises in the night darkness, will get a new legend in World club scene as well as Tokyo. The third eye opened by the meditation that Hideyoshi does every day. Live Performance, which sacrificed his unique sharp sensitivity not to depend on reason to let loose from there for, and one's mind and body attracted a big audience to his gigs.
–
In July 2011, he has started his career as a owner of Night Club"EN-SOF TOKYO" with his self-expression.
————————
(Film graphy)※Image supervisor
Zatoichi
arena
KILL BILL
Sergio Mendes
Eminem
Snoop Doggy Dog
Pitt Bull
50 cent
Black Eyed Peas
and more…
————————